Can I beg you to do something?
It involves this recipe.
And it involves you making it.
Pretty please can you make it? I promise it will be worth your time and investment in 75 different flours. Okay, really, there are just three. Whether you are gluten-free or not these need to be made. Right away. Maybe Tuesday morning? That seems like the perfect time.
Growing up, our typical Christmas breakfast scene were the jumbo Pillsbury cinnamon rolls, a giant batch of cheesy scrambled eggs, and fruit. It's been quite a number of years since I've had a Pillsbury roll, but I always find myself craving something cinnamony Christmas morning. I think it's the way cinnamon can fill a house. It's a comforting sort of smell. But then again, I eat about 1 tablespoon of cinnamon every.single.day. so maybe it's just me.
Jars, spoons, bowls, cinnamon. I have weird obsessions but they could be worse.
I had a little—okay, a lot—of fun with the toppings. They're not your typical butter + maple syrup toppings.
A little sprinkle + a little snow.
And if you're still not convinced, maybe this will help:
no yeast, no rising, no rolling
the kid in you can make fun swirly designs with the glaze
or, your kids can make fun swirly designs with the glaze
they are sweet but not overly so
they are soft + fluffy + moist, yes, moist
you can mix the dry ingredients the night before so you're 1 step closer
sprinkles.
Cinnamon Roll Pancakes
gluten-free // yields about 8, 5" pancakes or 2 servings // adapted from pumpkin spice pancakes
for the filling:
1/3 cup brown sugar
3/4 teaspoon cinnamon
for the pancakes:
1/2 cup gluten-free oat flour
1/2 cup sweet rice flour
1/4 cup almond meal
1 teaspoon baking powder
1/2 teaspoon salt
1/4 teaspoon cinnamon
2 large eggs
1/2 cup unsweetened almond milk, or 1-2%
1/3 cup unsweetened applesauce
1 tablespoon sunflower oil
1 teaspoon vanilla extract
butter/oil to grease the pan
for the glaze:
1/4 cup cream cheese, softened
2 tablespoons maple syrup
1/2 teaspoon cinnamon
1/2 teaspoon vanilla
Mix the "filling" ingredients in a bowl and set aside.
Mix all of the dry pancake ingredients together in a large bowl.
Whisk the wet pancake ingredients together in another bowl, until fully combined.
Combine the wet with the dry and stir with a large wooden spoon until just combined.
Gently fold in the "filling" mixture.
Let the batter sit for 10 minutes without disturbing.
While the batter is resting, beat the glaze ingredients together until fully smooth and creamy. Scoop into a small sealable bag, seal, and set aside. Or, store in the fridge until ready to use.
Heat a griddle or large pan over medium and grease with oil or butter.
Scoop approximately 1/4 cup scoops of batter in the pan and swirl around with a spatula or spoon to about 5" wide. For thinner pancakes, add 1-2 tablespoons more milk to the batter and gently stir until just incorporated.
Let cook 2-3 minutes until you see the top filled with bubbles. Then flip and cook another 2-3 minutes until golden brown. Avoid overcrowding the pan and adjust heat as needed so the pancakes are fully cooked.
After cooking all of the pancakes cut a tiny hole in the bag and squeeze the glaze over the pancakes anyway you like.
Top with sprinkles, powdered sugar, butter, or maple syrup if desired.
notes: For a spreadable glaze, add 1 tablespoon at a time of milk or cream until desired consistency has been reached. If you don't have brown sugar or want to make your own it's extremely simple! If you want to keep you pancakes hot, preheat your oven to 200-250*F and place an oven-safe wire rack on a baking sheet. Place each pancake on the wire rack as they finish cooking.
homemade brown sugar:
1/2 cup pure cane sugar
1-1 1/2 teaspoons molasses
Mix together with a fork or hand mixer until fully combined. Add more molasses for a deeper flavor. The amount will vary slightly depending on what type of molasses you're using.
Whether you're celebrating anything next week or not, I hope you have a little time off to enjoy a homemade breakfast. It's my absolute favorite.
A few other breakfast ideas:
Ashley
…………
Thanks to all who participated in the Gifts in Jars fun! Here is the recap from your submissions. It was so fun receiving your emails and seeing the photos pop up on instagram. Everything looks deeelicious!
Laura – Chocolate Peppermint Syrup
Katie – Candied almonds + walnuts and spiced pecans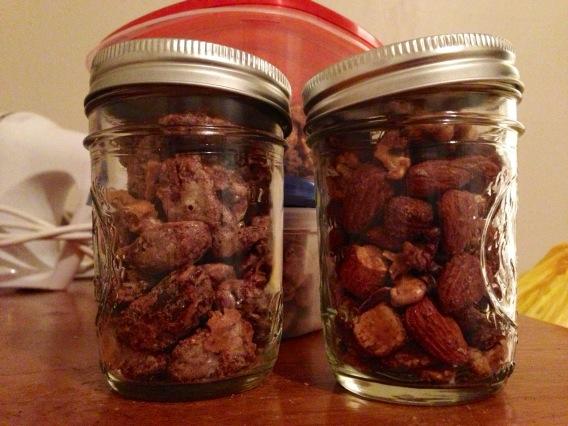 Nicole + Lauren – Almond Butter – a different flavor for each family member
Amy - Vanilla Spiked Apple Butter