Thanks for all of your comments on how to make a more filling bowl of oats!  It's fun to hear what works best for all of you.  I think I had some luck this morning!  Changing up the ingredients this much, has been way more fun than expected.  I always loved science class, so I will pretend breakfast is science.  I mean, hunger + the body are science, so I'm not too far off. :)
What do we have here?
My
"make it stick"
topping combo!


ground flax – put it on TOP instead of cooking it in – absolutely loved this and no gelled texture


a little glob of PB – it's just so hard to resist


coconut butter [in the jam jar!]  - A few of you suggested adding in 1T coconut oil to the mix and said that for some reason the coconut oil fats held you over better.  A lot of times I'll add a sprinkling of coconut butter but today I added 1T.  I used this instead of coconut oil for added fiber.  [coconut butter is ground from the coconut meat – coconut oil is the oil extracted from the meat]


1/2 banana


My
"make it stick"
hot cereal combo!


3T rolled oats


3T oat bran


3T masa harina


1c water


1c unsweetened soy milk


Besides the amazing flavor combination of this mixture, the volume definitely kept my gut happy.  I upped the carbohydrate amount, and as suspected that worked!  I also think there is something a bit more satiating with corn flour.  Anyone else?
With a little raw honey drizzle, this bowl was one of my favorites in a long time.
I really liked the change of having 1T coconut butter and a little nut butter, instead of the other way around.
Lovely morning bowl shadow.
Corny Oatmeal


3T oat bran


3T rolled oats


3T masa harina [can sub corn flour or fine ground corn meal, but will have a slightly different texture]


1c water


1c soy milk [Edensoy, GF, unsweetened – 12g protein]




Combine ingredients in a pot, bring to a boil, stir + reduce heat to simmer.


Cook until desired consistency is reached. ~7-9min


Toppings


1T coconut oil


1T ground flax meal


1/2T peanut butter


1/2 banana


The texture was dreamy.  Super thick + creamy, with a little chew.  If you've never had masa harina, it's worth checking out, if you like corn flavor.  If you've ever had a tamale, that is what the filling is made with.  I absolutely love it!  I have a few other recipes using masa harina, that you can check out
here
,
here
, +
here.
All of the nutrition facts were right on par with my normal bowls, but this definitely stuck much better!
Onto more exciting things!!
I have been in such a cooking rut lately.  There is still just so much going on with the house, that it's been hard to work on recipes once my breakfast is over.  Not to mention the constant chaos + mess in and around the kitchen.
But today, I didn't care.  My stove was in the middle of the kitchen and I was determined to use it!
I miss bread!  Gluten free, store-bought breads just don't do it for me.  Sure,
millet bread
is delicious, but the nutrition facts are less than stellar and the ingredient list is quite long.  GF bread slices are always tiny and have about 100 cals, 1g protein + 1g fiber.  Not exactly what you would call nutrient dense.
I'm determined to find away around this.  A way that doesn't call for 18 types of flour, yeast, rise times, etc.
A gluten free quick bread, we'll say.  A gluten free bread, that whether you're avoiding gluten or not, you will want to make + eat.
It's an extremely simple recipe, which stemmed from trying socca a few months back.  I like socca okay, but the flavor of garbanzo flour isn't my favorite, and it actually kills my stomach [bloat!].  I made a few recipes, like this
buckwheat + millet pizza crust
and a
buckwheat + garbanzo cinnamon raison "bread"
but wanted something more "everyday."
It takes ~45min to bake, but it takes about 5min to mix together.  You need one bowl and only a few ingredients.
You will want to grease your pan or line it with parchment.  I prefer parchment.  Actually, I am obsessed with parchment.  I rip a little slit in the corners so it fits better in the pan.
Oh, this is vegan too, and the raw batter was quite tasty.
My fingers were crossed when this went in!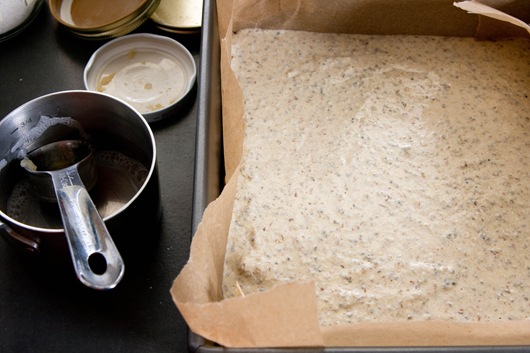 Not too much of a mess!
"Dakota!  Look HAPPY!"
"gooood girl…"  This is about as happy as she gets.
And here, you can see her starting to drift asleep, while her butt hovers above the floor.  Does anyone else's dog do that?  The hovering or sleeping sitting up??  Also notice the chaos behind her.  We started putting together more furniture.  Send help!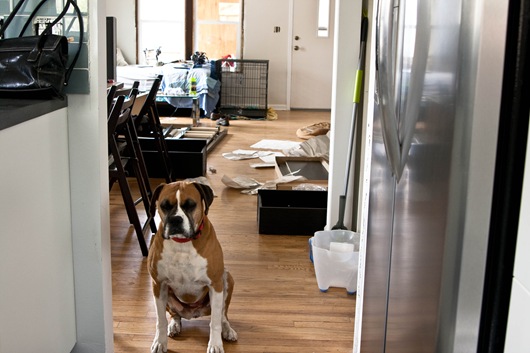 As the bread was baking, I painted + then worked on lunch.
A repeat
kale salad + smoky dressing
that you really must try!
I think I went a little heavy on the kale today.  I may still have some leaves stuck in my throat! ;)  Dinosaur kale works much better for raw kale salads!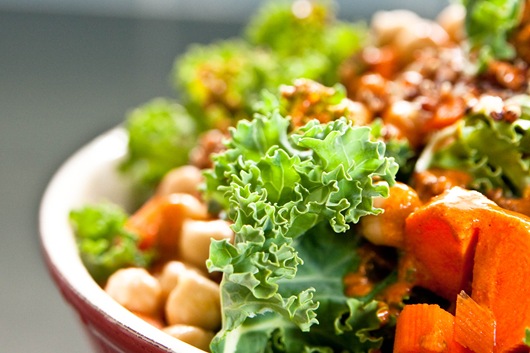 First bite!  WINNER
Hot out of the oven, I just couldn't stop eating this.
The texture is dense, but not overly so.  There is a bit of fluff to it as well.  It's not tough in anyway, but had a nice little crunch from the chia seeds.  The buckwheat + millet flours were a great combo and the flax added extra nuttiness.
It's hard to exactly describe the texture, but it's something like a….
cornbread-muffin-cake-pancake-bread?
It's not crumbly at all.  I love that it holds together perfectly with no gluten + no eggs!
It's definitely not like a light fluffy, whole wheat sandwich bread, but that wasn't my goal.  My goal was nutrient dense, delicious + customizable and it turned out to be just that!
Buckwheat Millet Quick Bread
[serves 4-?? nutrition facts below figured for 4 servings] gf/vegan/soy free


1/2c + 2T raw buckwheat flour [ground from raw buckwheat in a blender – not Kasha or toasted buckwheat]


1/2c + 2T raw millet flour [ground from whole millet in a blender]


2T chia seeds


2T ground flax meal


1/2c + 1T unsweetened almond milk


3/4c water


1/2t baking powder


1T unsweetened apple sauce


1T olive oil


1t sucanat [or pure cane sugar]


1/2t salt


1/4t black pepper




Preheat oven to 375* and grease bottom + sides of a 9x9 square pan or line with parchment.


Stir together buckwheat flour, millet flour, chia seeds, flax, baking powder, sucanat, salt + pepper in a medium sized bowl


Add in water, nut milk, applesauce + oil and stir until just combined.


Pour into pan, and evenly spread.


Bake for about 42-46min, until golden brown + cracked all over the top.


Notes:
*I always recommend grinding your grains fresh, as it results in a much better flavor.  It's also typically cheaper!  If you have a blender [works better than food processor] you should have no problem grinding them up.  I have had a bad experience with store-bought buckwheat flour [Arrowhead Mills].  It tasted awful, so now I always grind fresh.  Also, kasha or toasted buckwheat are not the same as raw.  Those will have a much toastier [almost burnt] taste.
*Feel free to sub in quinoa flour, amaranth flour, garbanzo flour, etc, for the buckwheat or millet.  I have no idea if a gluten-flour would work, like whole wheat.  If you try, let me know!
*If you don't have chia seeds, use 4T flax meal and vice versa.
*If you don't have nut milk, you can use all water or cow's milk.
*If you don't have applesauce, you can use 2T oil.
*This should freeze [well wrapped] and thaw really well.
The serving size really varies.  It depends what you want to do with it.  You could definitely eat half and smother it with nut butter for breakfast or lunch.  You could use 1/4 of it to make a veggie sandwich.  You could cut it into 8-10 pieces and use it for a dense snack.
Either way, here's a look at the nutrition facts
based on four servings.
Not too shabby!  Especially compared to any GF bread I've seen in the store.
You could really dress this up any way you like.


toast it


nut butter slather


smothered with chili


hummus


tomato paste


veggie sandwich


jam


eggs


doughy croutons


You could also customize this a million different ways!


curry style [curry, turmeric, coconut oil]


Mexican style [cumin, coriander, chili powder]


Italian style [oregano, basil, parsley]


add garlic


leave out the salt + pepper and add dried fruit


add chopped nuts


Both lists go on + on!
If you like buckwheat bakes, you will like this "bread!"
Enjoy + gooooooodnight! :)
Ashley