Thanks for all of the house congrats!  We just have one more BIG step before it's ours.  The loan approval!  I think we'll know for sure in 2 weeks.  So basically right now, I'm researching + going to a TON of stores pricing things out for the kitchen.  The DAY we find out if we're approved, I'll be ordering everything, which usually takes a few weeks.  We close on the March 4th and have to be out of our current place by the 31st. 
Speaking of kitchens.  Has anyone worked with Ikea to design their kitchen??  At first, I wasn't really considering them, but have read really good reviews and have found a lot of photos doing google image searches.  I'm really liking what I've found and they are so much cheaper than Lowes/Home Depot.  The only hard part is going to be that the closet Ikea is 7hrs away [Salt Lake City].  There is one coming to Denver, but not until the fall. 
Ummm….food?
Yes, right, this is a food blog.
JUICE!
3 carrots
1 large green apple
1/2 lemon
chunk of ginger
1/2 cucmber
Refreshing, but not my favorite. 
Remember socca pizza?  As much as I loved that, I love this next recipe even more.
I followed the socca recipe but instead, used millet + buckwheat flour, freshly ground!  Lately, I've been grinding my own flour, as I'm sure you've noticed.  It's extremely easy to do!  If you have a coffee grinder, grain grinder, or high speed blender you can do it too!  It doesn't work as well in a food processor.  I've only tried in my Vita Mix and it works perfectly.  If you've made flour in a different type of blender, please let me know how it works!  When I used buckwheat flour that I purchased, [arrowhead mills brand] the flavor was awful.  It was extremely strong and nothing like the flour I make from raw groats.
My mind is swirling.  Can you tell?
Back to the recipe. 
I was craving pizza again but since I was out of chickpea flour, I gave the millet/buckwheat combo a try.
It worked.
Perfectly!
I topped the pizza with:
pesto
red sauce
spinach
mushrooms
feta
I baked the crust in an 8" pan.  It's definitely fairly small, but you wouldn't believe how filling half of this pizza is.  You all know I eat quite large portions, but half of this with a nice green salad on the side is extremely satisfying.
What I liked about this crust over the socca crust was the texture.  The millet/buckwheat crust was more bread like.  Socca is a bit spongier in texture and the flavor is quite distinct.  I enjoyed the milder flavor of this crust for pizza.
This is extremely easy to whip up.  It take about 5-8min to prep!
Millet Buckwheat Pizza Crust [serves 2]
1/2c raw buckwheat flour [ground from raw buckwheat groats, not Kasha]
3/4c millet flour
1c water
1T olive oil
1T unsweetened applesauce
1/2t garlic powder
2t oregano
1t rosemary
1.5t basil
1t thyme
1/4t sea salt
Preheat oven to 375*
Whisk all ingredients together until well combined.
Grease an 8-9" round pan.
Pour batter into pan.
Bake on middle rack for 40min.  Edges should be slightly brown and pulled away from the pan.  The top will be cracked.
Take out of oven and slide a knife around the edge of the pan. 
Put a large plate upside down over top of the pan.  Hold the pan and plate together + flip, so the crust falls to the pan.  Flip over with your hands so the top of the crust is now facing up.
Top with toppings + bake on your oven rack/baking sheet/etc until ingredients are heated through.
*You can use 2T olive oil, instead of the oil + applesauce combo.
*Use whatever Italian spices you like, or you could make an Indian or Mexican version too!
*I have no idea how this will turn out with whole wheat flour, since that is a gluten-flour and buckwheat + millet are not.
It's very dense, but not dry at all.  When you re-bake it with the ingredients on top the outside edge gets nice and crispy.  I ate the 2nd half for dinner and loved it just as much!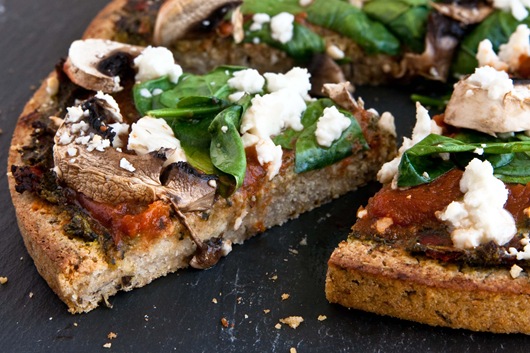 The sun-dried tomato pesto was perfect layered with the red sauce!  I really need to make a few of these at a time and freeze them.  I bet it would work great!
Wanna' come over for a bite?
Part II
Sometimes….
…you just need the real thing.
Goodnight!
Ashley