Many of you asked for the baked buffalo recipe that I talked about on yesterday's post.  Here is the link! Instead of pouring hot sauce on top, Kurtz used
this buffalo sauce
.  I'm not a huge buffalo sauce person, but Chris loves this sauce too!
…
I've never been the biggest fan of biscotti.  I mean, it's okay.  But, I've never taken a bite of a biscotti and squealed with joy.  What is the big deal about biscotti?  It's coated in chocolate?  So what…it's still stale.  Dip it in coffee you say?  Now why would I want to chomp on a wet, soggy cookie?
Maybe I don't like biscotti because mandel bread has always been a part of my life.
Yes, that is the reason!
Maybe it's not fair to say that I don't like biscotti, because biscotti means "twice baked," and these cookies
are
twice baked. 
Thanks Wikipedia!
Mandelbrodt, or mandel bread, is a traditional Jewish dessert cookie.  Very similar to Italian biscotti, but somehow, so much better!
My grandma has made these ever since I can remember and for some reason, mine never come out the same.  I think it's because she doesn't really measure.  She just "shits it in."  [My grandma does not have a potty mouth, however, those words are hers not mine ;)]
This is different from any other cookie recipe I've ever made.  It takes a minute to get used to, but is actually pretty simple.
Add eggs to a large mixing bowl.  Guess what?  No need for a stand mixer or hand mixer.  You just need a fork or wooden spoon!
Whisked.
Pure cane sugar added.
Oil added.
Whisked until completely combined.
Then, add in the flour, in 3 increments.
About 2.5-3c of fluffy white flour.
The dough will be thick.  Similar to a chocolate chip cookie dough.
Aluminum-free baking powder is
the way to go
.
Each ingredient is combined one at a time.
Chopped walnuts are added.
The dough is stirred again.
The the hardest part, is forming the dough on a cookie sheet.
Lightly grease a cookie sheet and plop the dough down into 3 equal piles.  You will need either 1 large + 1 medium pan, or 3 medium pans.  Shape the dough by pressing it around with a spatula.  The dough spread around until it's about 1/2" thick.  The dough is about 7" wide at it's largest point.
It takes about 30min to bake at 350*.  When it's golden brown and the edges are a bit darkened, it's done.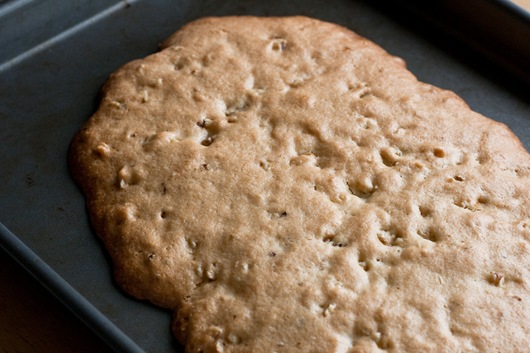 Cut immediately, being careful not to scratch your pan.  I like to use a large
pizza blade
.
Cut straight down the middle and then cut into 1 – 1.5" segments.  You will typically get around 60 pieces per batch.
When you cut the dough, it will feel slightly soft.  Not to worry.  It will crisp up in the oven and then more once it cools.
Turn pieces on their side and bake for another 5 minutes.
After taking them out of the oven, let them cool completely.  They will harden and become deliciously crunchy, but not so crunchy that they break your teeth.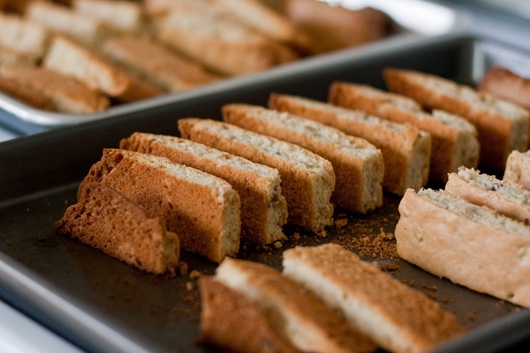 The flavor is mild, but something about them is just oh.so.tasty.
They have a nutty + slightly sweet flavor.  There are a lot of variations you could make to this recipe.  You could add almonds instead of walnuts and add a little almond extract, if you choose.  What about adding chocolate chips?  I'm sure it would work!
Right now I'm working on getting them more like when my grandma would make them.  See how smooth they are on top?  My grandma's were never that smooth.  They had a rougher textured top.  I have no clue why!
Even though they aren't exactly like I remember them, they are still completely delicious.  They are perfect in the morning with a cup of coffee, tea, milk or orange juice.  For some reason, they go really well with OJ!
Since this recipe makes such a large quantity, you could easily divide it by 3, for a 20 cookie batch.  Or, what I like to do, is bag + freeze them.  They taste perfect straight out of the freezer!  I typically don't even thaw them but munch on one as I'm making my morning oats.
I've tried a few other versions as well.


vegan with half whole wheat half white flour


half whole wheat half white flour with some applesauce


all whole wheat with a little more applesauce


So far, the vegan version came out great!  I want to give it one more trial before I type up the recipe though.  The versions with applesauce, were slightly soft.  The applesauce made them slightly cakey.  They didn't hold their crunch.  I think mixing half whole wheat pastry flour and half white flour, is totally doable though!
Mandel Bread
[makes appx. 60pcs]


3 large eggs


1c sugar


3/4c canola oil


2 1/2 – 3c flour


1tsp vanilla


1 heaping tsp. baking powder


3/4c chopped walnuts




In a large bowl, stir eggs with wooden spoon.


Stir in sugar.


Stir in canola oil until combined.


Stir in vanilla.


Stir in sifted flour + baking powder slowly, in 3 increments.  The dough should be stiff.  Add more flour if needed. [think chocolate chip cookie dough consistency]


Stir in nuts.


Preheat oven to 350* and set dough in fridge ~15min.


On a multiple baking sheets, lightly greased, portion out dough into 3 equal pieces.


Spread around with a spatula, into a oblong shape, until the dough is about 1/2" thick and about 6" at it's widest point.  Make sure to keep a 2" clear space around the dough, to allow room for spreading.  If baking two pieces on one pan, leave 4" in between them.


Bake for about 30* until golden brown all over.


Cut down the center, and then width-wise into ~1" width pieces. ~20 pieces


Flip on sides + bake for 5 more minutes.


Transfer to a cooling rack and allow to fully cool.  *It's important they cool all the way before storing, or they won't stay crisp.


Store in foil and leave on the counter, or in a plastic bag.  If not going to eat within 1 week, store in the freezer.


You could easily bake a few batches at once, store them in the freezer, and take them out as needed.  They don't degrade in the freezer at all!
As I make changes or try new variations, I'll definitely keep you updated.  I hope you enjoy these cookies as much as I have over the years!
<3 Ashley